Hours Before Trump's Speech – His Approval Rating Takes A Sharp Turn
On the day of his State of the Union – even Donald is surprised at the big swing.
The Democrats and the mainstream media have been attacking Trump.
And it's cold outside. What else is new?
They spent over a month blaming him for the shutdown they created. That resulted in a downturn in his approval as the shutdown ended.
With his State of the Union address tonight, they'd like nothing more than for Americans to tune out.
Unfortunately for them, he just saw a huge swing.
From Rasmussen Reports: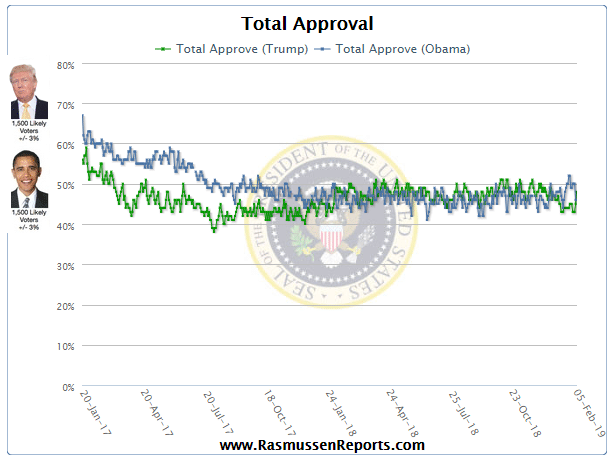 The Rasmussen Reports daily Presidential Tracking Poll for Tuesday shows that 48% of Likely U.S. Voters approve of President Trump's job performance…

The latest figures include 36% who Strongly Approve of the job Trump is doing and 42% who Strongly Disapprove.
SHARE if you approve of President Trump and the job he's doing!
–> WATCH and discuss Trump's State of the Union HERE! <–
Even with the media's constant attacks on the Trump administration, the President continues to pull out high approval numbers.
The last dip was most-likely a result of disappointment over the shutdown, not just media attacks.
Most conservatives would have been happy seeing the shutdown extend forever. It's not like we want big government.
The dip was most-likely due to Trump's base upset over the "supposed" concession.
Since then, we've seen Trump vow to build the wall, no matter what. Even if Congress continues to obstruct, Trump is going to make it happen.
Try all they might, the Democrats won't be able to stop him. As Patriot Journal has reported regularly, he has many tools in his arsenal to get the wall built.
That should make every patriot stand up and cheer.
SHARE if you're watching Trump's speech tonight!
Source: Rasmussen Reports