After Trump Comes Back to "X" With Mugshot – The Platform's Response Almost Breaks the Internet
What's Happening:
This week, Democrats did the unthinkable and arrested Trump on a fourth indictment. Unlike in previous federal cases, the over-ambitious liberal DA demanded Trump be arrested, booked, and photographed for a mugshot. Of course, that picture was quickly "leaked" to the liberal media, who paraded it around like a trophy.
But their victory was short-lived. The Trump mugshot was hardly a sign of defeat. Trump appears even more determined and intense in the photograph–and liberals should be very worried. Because, this unprecedented attack on our electoral system–arresting a leading candidate–motivated Trump to break a ban he's maintained for two years.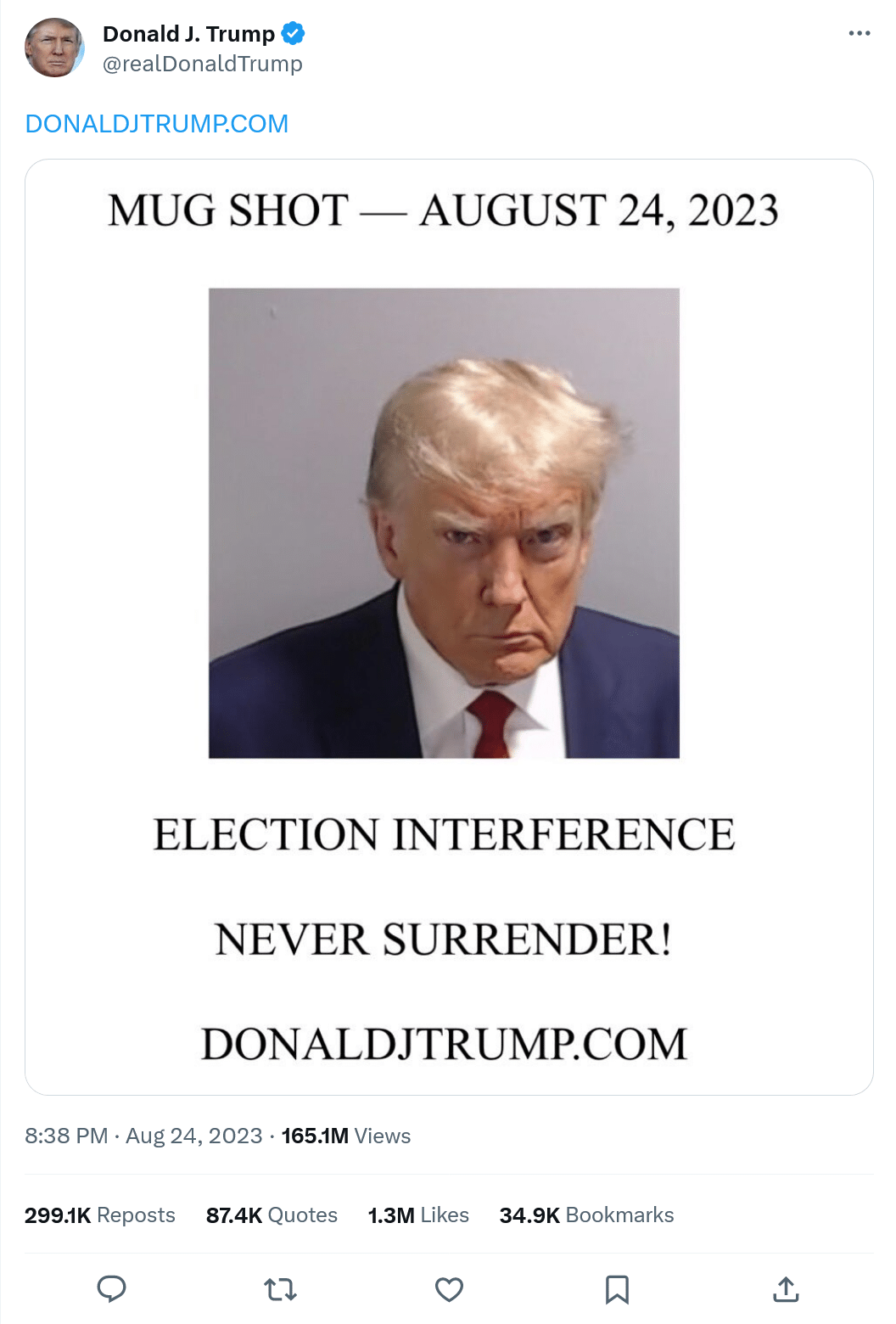 That's right, Trump posted to Twitter for the first time since January of 2021 with a picture of his mugshot. With it came the text, "ELECTION INTERFERENCE. NEVER SURRENDER!" He also included a link to his website and a place where supporters can donate.
At the time of this writing, the simple tweet was seen 165.1 million times. It has been reposted nearly 300,000 times, quoted 87.5 times, and liked by 1.3 million users. And if you thought the responses to this post would be nothing but trolls, think again.
So… I guess it's safe to say that passionate Trump supporters never left Twitter. In fact, they've been there all along but had been silenced by the social network's previous owners. Instead of a flood of hate popping up under Trump's first post in two years, the vast majority of responses have come from people standing with the former president.
Instead of America turning on Trump, because of this post, people are coming out of the woodwork to voice their support. I can't imagine the demand for tickets to his next rally, wherever it is. Hundreds of thousands of Americans might be eager to show up and see him.
And it wasn't just American voters standing behind Trump after his mugshot came out. Republican leaders are also standing up for the 45th president.
From Fox News:
"Sickening," former Trump official Stephen Miller posted on X, formerly Twitter. "Authoritarian. They're flaunting their crackdown on democracy." […]

"Not all heroes wear capes," GOP Rep. Lauren Boebert tweeted along with Trump's mugshot…

"Those who decided to start using indictments, prosecutors & even mug shots as weapons in a political campaign have unleashed a destructive new era in American politics," Florida GOP Sen. Marco Rubio tweeted.
That's only a sampling. Republican leaders across the nation are rallying behind the former president. If Democrats really thought that mugshot was going to hurt Trump, they really are insane.
Key Takeaways:
Trump returned to Twitter/X for the first time in 2 years.
He posted his mugshot and a link to his campaign website.
Many users responded to the post showering the former president with support.