After Trump Makes Caravan Order, Texas Shoots Back A 'Lone-Star' Response
Even Donald didn't see their Texas-sized reply coming.
If you didn't believe the border crisis was at a breaking point, believe it now.
What's going on is a nightmare. Trump tried to prevent this with a wall, but Democrats blocked him.
People are crossing over (or attempting to) in record numbers. The caravans are only growing larger—they could reach 20,000, the size of a small CITY.
Until the wall is built, Trump needs help from the states. He put out the call—
And he got a TEXAS-sized reply from the Lone Star state. From Twitter: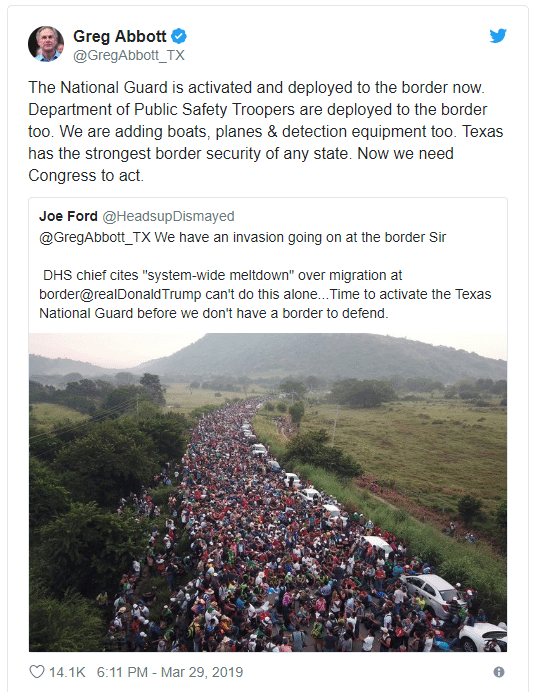 Here's Abbott's quote: "The National Guard is activated and deployed to the border now. Department of Public Safety Troopers are deployed to the border too. We are adding boats, planes & detection equipment too. Texas has the strongest border security of any state. Now we need Congress to act."
Bless your heart, Governor!
I'm a Texan myself, and I am so thankful for a state that will stand up and defend its land and its people!
The Texas National Guard will provide vital support to our Border Patrol, and boy, do we need it. Their resources will help stem this tidal wave.
But that will only help (a bit) in the meantime. The long-term solution? Build the wall.
Trump is moving ahead, thanks to his national emergency. But we'd be a lot further along if Congress did its job.
Why are there still lawmakers refusing to act? Why aren't they putting Americans first?
Thankfully, Texas isn't following their lead. They will do what it takes to keep us safe.
SHARE to thank the Texas National Guard for protecting our borders!
Source: Twitter