Trump Finds $14B For His Border Wall – In Convicted Criminal's Pockets
Donald just found all the money he needs for the wall – he can leave Congress behind now.
President Trump has score one win after another for the border wall.
The media said it couldn't be done. But once again, they were wrong. But he still needs the funds to finish the wall.
Congress might give him a little, but Ted Cruz has a plan that will provide BIG BUCKS for Trump's big, beautiful wall.
And it's all thanks to a drug lord.
You heard me right.
From Breitbart:
Following the conviction of Mexican drug lord Joaquin "El Chapo" Guzman in a New York federal court on Tuesday, Senator Ted Cruz (R-TX) revived his call to pay for border wall construction with the assets seized from drug traffickers. The Texas senator first introduced the "EL CHAPO" Act in 2017.

"America's justice system prevailed today in convicting Joaquín Guzmán Loera, aka El Chapo, on all 10 counts," Senator Cruz said in a tweet on Tuesday. He said that prosecutors are seeking the seizure of $14 billion in "drug profits and other assets" from the jailed drug lord and that those funds should go toward building the border wall.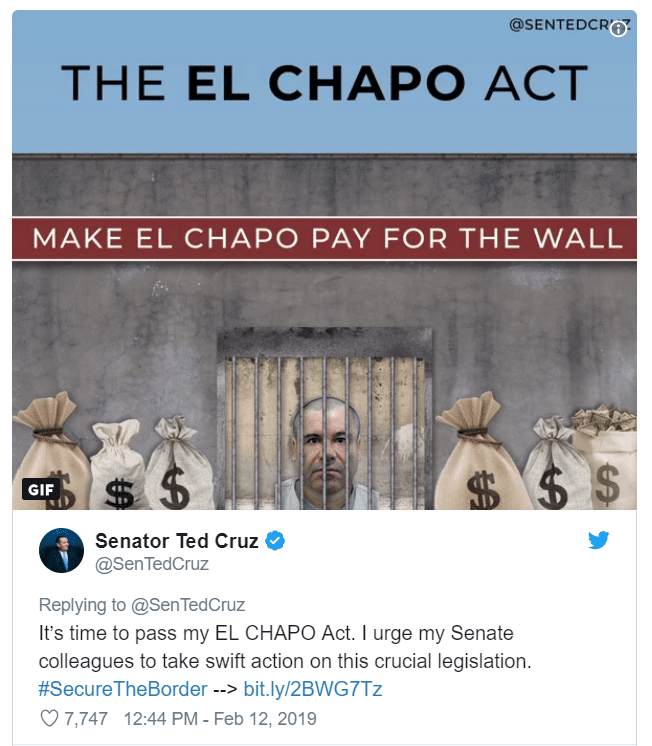 SHARE if you support using El Chapo's money to build the wall!
It's poetic justice, really. Actually, it's just regular justice. El Chapo got rich off of selling poison to Americans.
How much American wealth was in El Chapo's horde? Quite a bit.
Now that money can go to build a wall that keeps drug lords like El Chapo out for good.
Plus, drug runners that are caught thanks to the wall will be able to continue to fund security efforts!
That's a big win-win.
President Trump has supported using El Chapo's money before – now  Donald and Ted just need to make it happen.
SHARE if you support using El Chapo's money to build the wall!
Source: Breitbart