Trump Blindsides California Democrats – Drops Verdict On Liberal 9th Circuit
Donald outsmarted Democrats – and now he's getting everything he wants.
The 9th Circuit Court is based in California. It has been used by liberals to undermine our Constitution for years.
Most Americans consider it a radical, left-wing activist court. And, true to that reputation, it has been the foremost court oppose Trump's agenda.
What's even more shocking was the rumor that the White House was colluding with Democrats to put more radical liberals on the bench.
But it looks like Trump has crushed that deal.
From The Right Scoop:
As we were warning earlier, it looked like the White House was going behind Trump's back to make a deal with California Democrats on appointments to the Ninth Circuit…

Well Trump just announced his appointments and Dems are going to be crying a lot over it: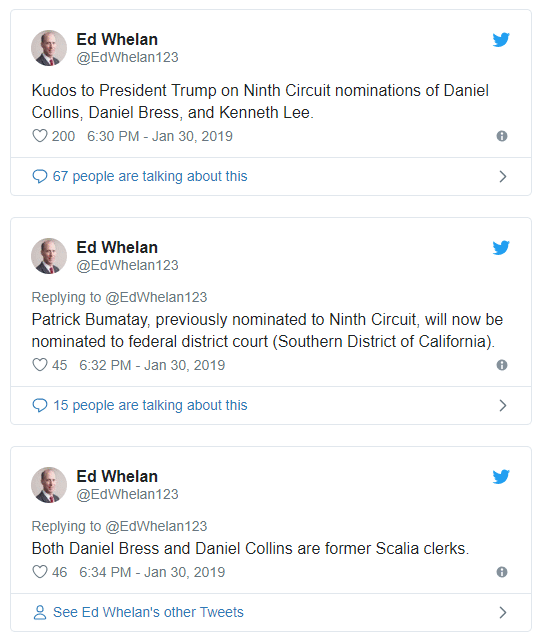 Kudos to President Trump on Ninth Circuit nominations of Daniel Collins, Daniel Bress, and Kenneth Lee.
SHARE to thank President Trump for making America's courts conservative again!
With a Republican majority in the Senate, Trump does not need to placate liberals in order to get votes for his judges.
Already he has put a record number of federal judges on the bench. Without the left's help.
After all the pathetic games House Democrats have played with our country, did they believe Trump would bow to them in the Senate?
These are the same corrupt, disgusting liberals who tried to destroy Brett Kavanaugh's reputation over lies.
They deserve nothing.
President Trump has no reason to appoint liberal judges to this toxic court. We need decent, conservative leaders to reform this radical, obstructionist bench. Looks like we're going to have it.
SHARE to thank President Trump for making America's courts conservative again!
Source: The Right Scoop