What's A Top Democrat's Full-Time Job? Working For Illegal Immigrants, He Admits
It's official: Democrats have their priorities completely out of whack. For years they claimed to be the party for the working man. Yet when Trump and the GOP wanted to pass huge tax cuts for the working man, who voted against them? Democrats.
Not a single Democrat supported tax cuts. It's clear they are only interested in protecting their own party. They put criminals and illegals ahead of Americans. That is especially true when they create sanctuaries for criminal aliens.
Sen. Dick Durbin just announced what he really cares about. Not you. Not me. Not even the people of his state. No, Durbin is spending his full-time job protecting illegals.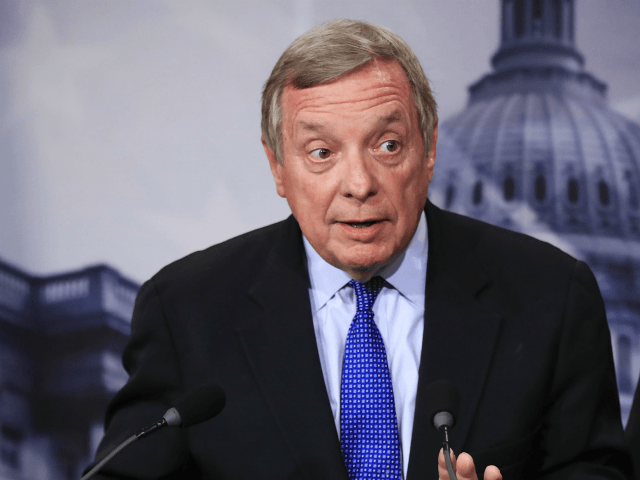 From Breitbart:
Sen. Dick Durbin (D-IL) says his sole focus in Congress is making sure illegal aliens are given amnesty to remain permanently in the United States.
In comments on Monday, Durbin said it is illegal aliens, not his Illinois constituents, who he is working "full time" and around the clock for…
"I'm focused on one thing — not that meeting — but on making sure that those who are being protected by DACA and eligible for the DREAM Act have a future in America. I am focused on that full time…"
Durbin, Democrats and the Republican establishment have scrambled together to negotiate with the White House on a deal where potentially millions of illegal aliens shielded from deportation by the President Obama-created Deferred Action for Childhood Arrivals (DACA) program are given amnesty.
It's not a surprise that an Illinois senator would announce this. Chicago politics are totally corrupt. They put the interests of murdering criminals and illegal aliens ahead of their own people.
Imagine all the hard-working Americans in Illinois. They count on Durbin to put their needs first. That's why they elected him, after all. Instead, he's putting all his effort into making sure illegal aliens are taken care of.
Remember, this is the liar who tried to smear President Trump. He tried to derail negotiations by claiming Trump called some nations "s***holes."
The liberal media ran with that, despite numerous people in the meeting saying it never happened. This is the same man looking after criminals instead of citizens.
It's high time the people of this country abandoned the left. They do not care about us. Democrats are only concerned with protecting their own interests. Illegals are more important than law-abiding citizens.
Source: Breitbart