Report: Washington Swamp Salaries Revealed. 30,000 Are Higher Than Any U.S. Governor
President Trump was elected for many reasons. One of the biggest ones was his now famous promise to "drain the swamp." And, as each day goes by Americans get a clearer picture of just how 'swampy' the federal government has become.
A newly released report titled "Mapping The Swamp" exposes some skin crawling statistics on federal workers' salaries.
The report that was released by a government watchdog group called OpenTheBooks, labels itself 'a study of the administrative state," and details the wages of federal workers.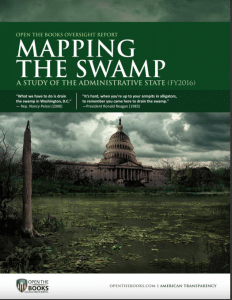 The jaw-dropping numbers it reveals highlight the fact that six-figure salaries in the federal government are growing at an alarming rate. To be paid more than any United States governor—over $200,000 a year as a federal employee—is now becoming the norm.
Fox News reports: According to the report, the number of federal employees making $200,000 or more increased by 165 percent between fiscal 2010 and 2016.
Federal employees making $150,000 or more grew by 60 percent, with the number making more than $100,000 increasing by 37 percent in the same time period.
The group put its figures in context by comparing these plush payment packages with those of America's governors.
"Nearly 30,000 rank-and-file federal employees who received more than $190,823 out-earned each of the 50 state governors," the report said.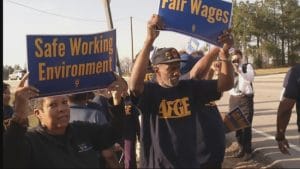 The highest paid governor is Pennsylvania Gov. Tom Wolf, who makes $190,823.  So 30,000 federal employees earn more than America's highest top earning governor. It looks like it's time for a career change, America.
The report goes on to say that there is a new 'minimum wage' for government workers and at 78 departments and independent agencies, the average employee made $100,000 or more," OpenTheBooks said in a statement.
Which means, in the fiscal year of 2016, more than 400,000 federal workers made six-figures, all thanks to Americans hard-earned tax dollars.
When everything is totaled up, the report states that just with the 'disclosed' salaries, the U.S. government is shelling out $1 million a minute, which translates to more than half a billion per day.
And these numbers don't even include salaries that have not been disclosed to the American people, not to mention bonuses and pensions.
All I can say is thank God for President Trump. He can't drain the swamp fast enough.
And, if you're thinking of changing to a new line of work, taking a federal job might be the right move to make until he does.
Source: Fox News