After Stormy Daniels Slanders Trump, His Team Fires Off Hard-Hitting Response
It didn't take long for President Donald Trump to respond to pornstar Stormy Daniels.
The adult film star went on "60 Minutes" on Sunday and spoke about her alleged affair with the President, and further said she faced threats to her safety.
Apparently, back in 2011, Daniels claimed an unidentified man threatened her in a Las Vegas parking lot and ordered her to "leave Trump alone" and "forget the story."
Furthermore, in the interview over the weekend, she said this man – who she claimed was Trump's personal attorney, Michael Cohen – directly threatened her life, allegedly saying:
"That's a beautiful little girl. It'd be a shame if something happened to her mom."
Not long after the magazine story was killed, Stormy Daniels says she was threatened by a man who approached her in Las Vegas. "A guy walked up on me and said to me, 'leave Trump alone. Forget the story.'" pic.twitter.com/JMskKQiYCi

— 60 Minutes (@60Minutes) March 25, 2018
Well, President Trump didn't take too kindly to these words and in turn, Cohen's lawyer, Brent Blakely, sent a clear and powerful message to Ms. Daniels:
It's a cease and desist letter, sent to Daniel's attorney Michael Avenatti, and it demands that this so-called "actress" stop making "false and defamatory" statements.
Daniels says she had consensual sex with Donald Trump once and though she's not claiming she's a victim, she is saying she was given $130,000 to stay quiet before the 2016 presidential election.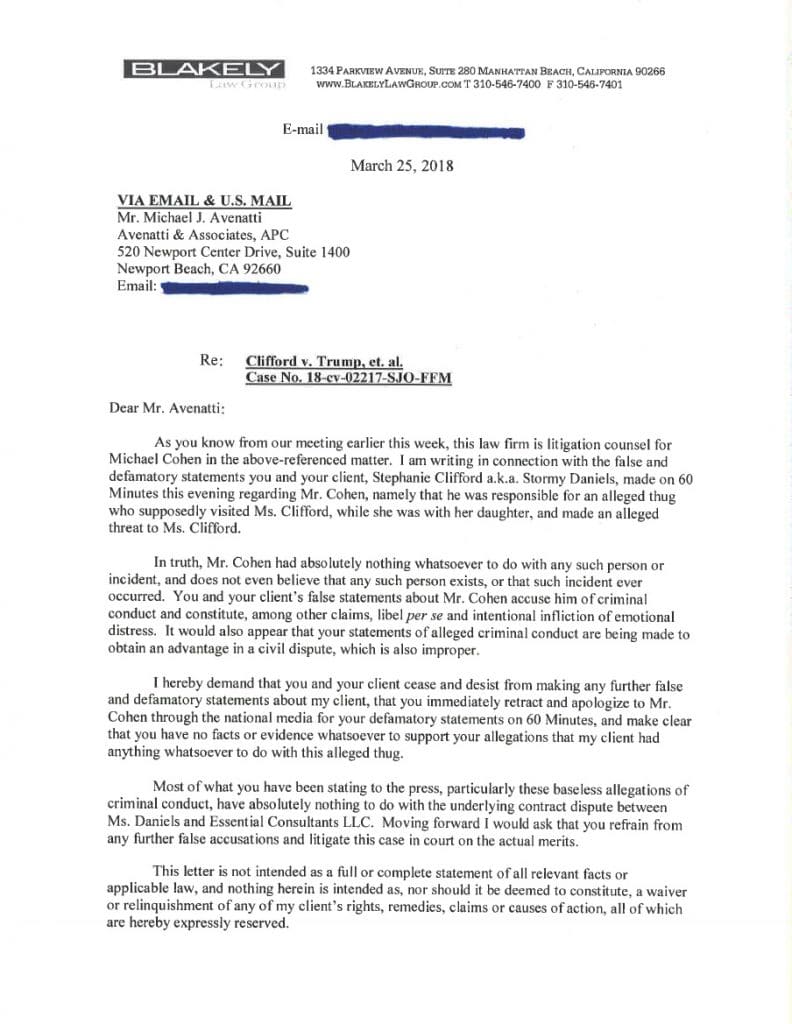 Cohen has admitted to giving Daniels the payment but it had nothing to do with Trump or his campaign; it was out of his own pocket and never reimbursed by Trump or his staff.
Throughout this situation, Trump has continually denied Daniels' allegations concerning the affair.
Cohen backs up his client, confirming that Trump never had an affair with Daniels (whose real name is Stephanie Clifford). And yet, the pornstar persists in her story.
She even says that he invited her to be a contestant on "The Apprentice" as a way of keeping her around, something else Trump flatly denies.
Well, now that Trump and Cohen have taken legal action of their own, perhaps the truth will finally be revealed…or maybe this pornstar will just retreat because she doesn't want her lie exposed.
Either way, Trump and his team have to be pretty sick and tired of the endless slander.
Source: Fox News