Seconds After GOP Elects New Speaker – Trump Posts His Perfect Reply
What's Happening:
A few Republicans in Congress put the country in jeopardy, after ousting House Speaker McCarthy. They plunged the House into chaos for three weeks, as holdouts refused to elect a new leader.
This happened while Israel went to war and several crises continue to hurt the United States.
But after several qualified Republicans failed to earn the gavel, the party finally united. They selected Mike Johnson as the next Speaker. And former President Trump had something to say about it.
From TRUTH Social:
Congratulations to Rep. Mike Johnson. He will be a GREAT "SPEAKER." MAKE AMERICA GREAT AGAIN!

Donald Trump took to TRUTH Social to congratulate Rep. Mike Johnson for the historic win. He said the Republicans will be a "great speaker" before signing off with his typical slogan, "Make American Great Again."
Trump had previously torched the nomination of Tom Emmer, accusing him of being a "Globalist RINO." The former president then said fine things about Rep. Johnson but refused to endorse him.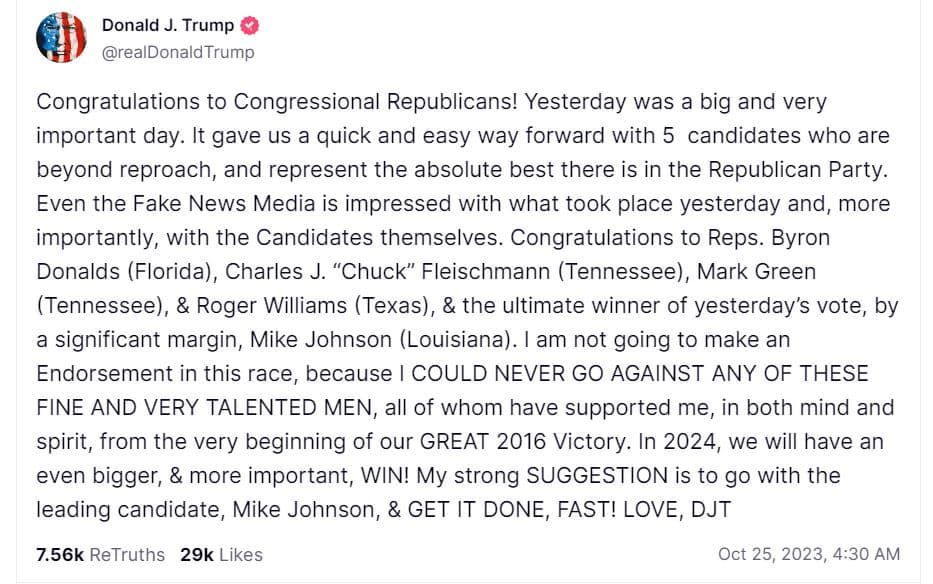 It is possible Trump avoided giving an endorsement, knowing there are enough anti-Trump House Republicans. Had Trump backed Johnson, or anyone else, it might have spoiled their chances of winning.
Republicans have a slim majority in the House. Johnson could not afford losing more than five votes, if he expected to win. Trump's refusal to endorse him could be a sign that his influence over the party is waning.
While he enjoys a commanding lead in most GOP primary polls, there are still voters who do not want him running in 2024. Some fear he will not be able to beat Joe Biden. Others probably believe he is too divisive to unite the GOP and the country.
It appears Johnson enjoys widespread support among Republicans in the House. There were roars of applause when Rep. Stefanik nominated him. And the Republican won unanimously after previous candidates failed to bring in enough votes.
Does this mean Johnson has what it takes to unite Republicans in the House? Can he continue impeachment hearings against Biden and turn the leftist tide in Washington? Time will tell.
Key Takeaways:
Donald Trump celebrated Mike Johnson's win to House Speaker.
The former president previously refused to endorse Johnson or any other candidate.
Source: TRUTH Social