Trump's ICE To Storm Sanctuary State, Arrest 1,500 Illegals
Sanctuary states have made headlines over and over again for taking a strong stand against anything and everything the president has said or done in regards to illegal immigration.
Sanctuary governors are doing the exact opposite of whatever order Trump gives. If Trump said to turn left, they would turn right for no other reason than to thwart him.
So once again the "premiere' sanctuary state is in the news for going against federal law and the president.
This time it's Oakland's Mayor Libby Schaaf giving the law of the land the finger.
Law enforcement officials from Northern California said they will refuse to assist federal authorities in the upcoming sweeps that aim to capture more than 1,500 illegal immigrants, the San Francisco Chronicle reported Wednesday.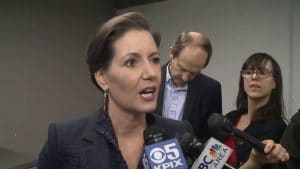 The paper, citing an anonymous source, reported about a planned operation to be conducted by the U.S. Immigration Customs and Enforcement agency. The report did not specify a date, but said it will be conducted in the near future…
Oakland Mayor Libby Schaaf told reporters that police in her city will not assist ICE officials if the report on the raids is accurate.
Schaaf didn't stop there though. She continued by saying she would be willing to go to jail to protect her sanctuary city policy.
Liberals are great at shooting off hot air. I wonder how long she would really be willing to sit behind bars for people who didn't elect her.  This is just more grandstanding on her part to make headlines once more.
It worked, but, depending on which side you're viewing it from, that may not be such a good thing. And, they're not very bright if they think the president and his DOJ will stand for this kind of behavior too much longer.
But, until Trump and Sessions figure out the best way to make California fall in line, at least citizens in the bay area still have ICE looking out for them.
Thomas Homan, the acting director of ICE, said last month that federal immigration officials are prepared to protect local communities in California if local officials refuse to do so.
Thank God for ICE.
Source: Fox News