Roseanne Smashes TV Records. Next Morning, Astonishing Phone Call Takes Her Breath Away
Chances are, you're one of the many millions of Americans that watched the return of Roseanne.
The classic 90's sitcom returned to TV this week, breaking several records.
Fans raved over the return of the show, especially conservatives who celebrated the show's political leanings.
But there's more to this incredible story. After the show's smash first airing, Roseanne got an unexpected phone call from a HUGE fan.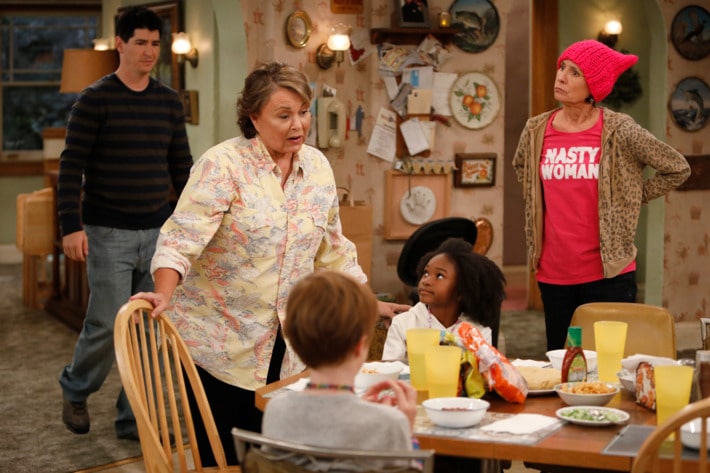 President Trump himself gave her a call!
Breitbart has details:
President Donald Trump personally phoned Roseanne Barr on Wednesday to congratulate her on her show's impressive debut.
Details of the president's call on Wednesday were reported by the New York Times. Axios reported that Trump recalled crossing paths with the ABC sitcom star in New York City during the phone call…
In an appearance via phone on Thursday's episode of Good Morning America, Barr recalled her conversation with President Trump and revealed their years-long friendship.
"It was pretty exciting, I'll tell you that much," Barr said about the call. "They said 'Hold please for the President of the United States of America,' and that was about the most exciting thing ever, and it was very sweet of him to congratulate us."
Roseanne has historically supported liberal causes. But in recent years, she's become more and more critical of democrats' far-left swing. She was an outspoken supporter of Trump during the election. Her character in the return show is an outspoken supporter of the President as well.
It comes as no surprise that Trump would personally congratulate her.
Roseanne commented on the conversation and said they discussed a lot of topics. She mentioned that Trump has always been nice to her over the years and "done a lot of nice things for me."
The success of Roseanne's return has liberals rattled. The first episode wore it's pro-Trump support on its sleeve. Roseanne's character even thanked God "for making America great again." The first episode was the highest-rated comedy in years, beating out the return of Will and Grace.
It's yet another reminder to the elitists in Hollywood that Americans want conservative television. Almost every race, ideal, and political stance is represented on television. Except conservatives. Unless you count shows that mock us.
The success of Roseanne's show might teach Hollywood to stop belittling the majority of America.
Finally a show for us, I now have a reason to turn on the TV!
THANK YOU ROSEANNE FOR MAKING TV GREAT AGAIN
Source: Breitbart