Trump Drains Swampiest Liberal Agency In D.C., 75% Gone Overnight
The high priests of the official state religion of the US, 'Climate Change,' are unhappy with President Trump and his leadership team.
Apparently, they do not believe they are getting the respect they deserve.
Anyone who does not buy into the theory of climate change is immediately written off by the left as a kook, an ignoramus, or a "flat-earther."
If man-made global warming turns out to be a flawed theory, you don't need big government to fix it. And that's the real tragedy the left is worried about.
Nine members of a twelve-member advisory panel on national parks threw a pity party because wouldn't sign off on their liberal policies.
So Trump took it as a great excuse to drain the swamp.
From HuffPost:
Most of the members of the National Park Service Advisory Board have tendered their resignation over frustrations with Interior Secretary Ryan Zinke, The Washington Post reports.
Nine of the 12 board members quit Monday night, citing Zinke's refusal to convene the citizen advisory panel or discuss matters with it since he came into office last March.
Zinke has drawn criticism for a number of his actions in the Interior Department, including silencing scientists about climate change.
Where does the HuffPost get its news? Far from being "silenced," there are plenty of scientists talking about climate change. Nonstop.
Zinke has rejected numerous requests to meet with the advisory panel, which is required to meet twice a year, despite his efforts to review restructuring national parks.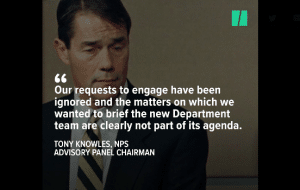 Departing board Chairman Tony Knowles told the Post that the panel has waited to work with Zinke but has been 'frozen out.'
Great. Now we're getting somewhere. Mr. Knowles should be thanked for sharing this good news with us. One more worthless part of an unnecessary bureaucracy has just bitten the dust.
Joel Clement, a former employee who claims the Interior Department retaliated against him for his work on climate change, told HuffPost in October that the morale under Zinke was 'in the toilet.'
Clement also criticized Zinke's comments that questioned the department staff's 'loyalty' to him and President Donald Trump.
This actually gets amusing as you realize what's going on. Of course, a department full of liberals is going to go berserk when they can no longer dictate the agenda. Maybe the whole department will quit and go to work for Greenpeace. We could be so fortunate.

And a left-wing article would not be complete without attacking one of the left's most hated industries. Watch for it. Here it comes:
"It's profoundly offensive because it portrays a lack of understanding about the civil service and the mission of the agency,' Clement told HuffPost.
"It made it clear that what he's trying to do is not work with the career staff and advance the mission ― he's trying to undercut the agency and its mission. And it became very clear that his interests were aligned with special interests, like the oil and gas industry."
Now it's complete. President Trump has been vilified. His interior secretary has been vilified. The oil and gas industry has been vilified. And the purveyors of the climate change theory have been exalted.
All in all, a predictable, normal news story from a leftist news outlet.
Source: HuffPost