Passenger Collapses On Board Flight – Finds Out He Was Saved By A Celebrity
In a moment of crisis, you can always tell someone's true nature.
On a flight from Florida to Mississippi yesterday, a passenger lost consciousness  and collapsed in their seat.
In a panic, the staff aboard the plane yelled out:
"Is there a doctor on board?"
Why yes, yes there was. Not just any doctor either, this one is a little unique.
The US Surgeon General Dr. Jerome Adams was on board and more than willing to help out.
He jumped into action without hesitation and helped the patient regain consciousness and keep them stable. He was also assisted by two other unnamed nurses who responded immediately.
What amazing people jumping in to help a stranger.
It's by no means lucky to fall unconscious on a flight, but how lucky for them to be saved by THE US Surgeon General himself!
That's a story not many people can tell… that's for sure.
Here is a tweet that Adams made shortly after the incident: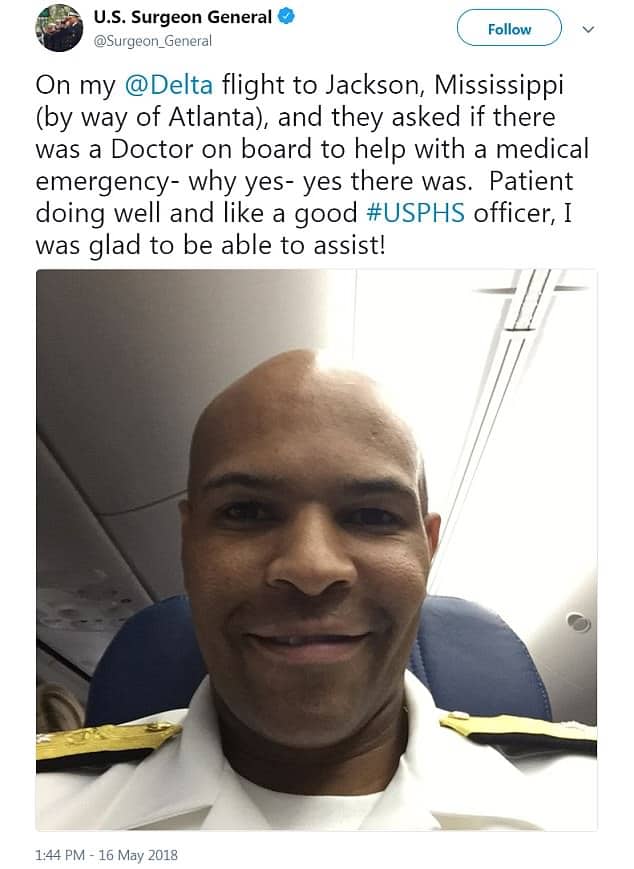 For those of you wondering, Adams recommended that the plane turn around and provide the patient further evaluation at the hospital.
He also called the patient's spouse to tell them what happened and that they were OK and stable.
Can we give a round of applause for these heroes?
Or the internet equivalent of that, haha — perhaps a comment or share!
Adams and the two nurses deserve some recognition for their hard work. We appreciate your dedication and care – thanks so much!
I'm sure the passenger appreciates it as well.
Source: Twitter