Barack And Michelle Find A Sneaky Way To Invade Millions Of American Homes
Many Americans eagerly anticipated January 20, 2017.
It was the date that Obamas finally moved out of the White House and out of our lives.
At last, we could collectively breathe a sigh of relief knowing that Michelle and Barry's faces wouldn't be plastered on our television screens day in and day out.
But the Obamas are well known for being desperate attention seekers. Their narcissism is fueled by the deranged liberals who can't seem to leave the Obamas in the past, where they belong.
The former President and First Lady have continued to find any opportunity they can to get in front of the cameras again because they cannot stand to be out of the limelight.
Obama spent the majority of his 8 years in office doing nothing but rubbing elbows with celebrities and the Hollywood elite, and now it appears his constant groveling has paid off in a taxpayer-funded movie producer contract.
From IJR:
"You should expect to see a lot more from former President Barack Obama and his wife, Michelle Obama, as both signed a deal with one of the most popular online video services:
President Barack Obama and Michelle Obama have entered into a multi-year agreement to produce films and series for Netflix, potentially including scripted series, unscripted series, docu-series, documentaries, and features.

— Netflix US (@netflix) May 21, 2018
Netflix announced Monday that the Obamas entered a multiyear agreement to produce a variety of different types of films.
Those could include 'scripted series, unscripted series, docu-series, documentaries, and features.'"
Netflix CCO Ted Sarandos couldn't contain his schoolgirl enthusiasm for the project, stating:
"Barack and Michelle Obama are among the world's most respected and highly recognized public figures and are uniquely positioned to discover and highlight stories of people who make a difference in their communities and strive to change the world for the better."
This gushing review of the Obama's character comes just days after it was revealed that Obama planted an FBI informant in Trump's presidential campaign.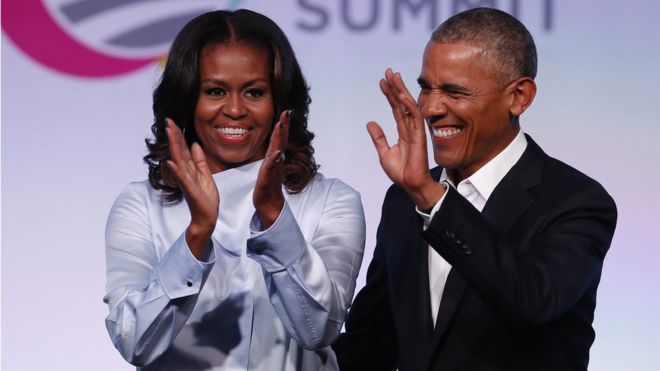 Isn't it funny how violating the law never seems to damage your credibility if you're a Democrat?
But since they no longer hold any political influence or power, the Obamas are turning to the media for a way to feed their one-sided propaganda to the masses, even as they face mounting evidence of their corruption.
Conservative Netflix subscribers are outraged that this project is happening, and many are canceling their accounts in protest. We just got rid of the Obamas, and yet they continue to find ways to force themselves into our lives.
But who knows how long their little film project will last after the Inspector General report comes out?
After the full extent of their criminal activity is revealed, the Obamas might have to do their shows from prison.
Source: IJR