Melania Alert: Donald Delivers First Update On His Wife's Condition
When a member of the First Family is in the hospital, true Americans are anxious and concerned.
Even relatively simple procedures, such as the one First Lady Melania Trump just underwent, can go wrong.
Complications can arise whenever one goes under the knife, which is why U.S. citizens have been waiting for an update on Melania's condition following her surgical procedure.
Mrs. Trump had the operation to treat a benign kidney condition and not long after she was out of surgery, her husband was at her side.
That's right, President Donald Trump – who liberals brand as cold-hearted and unfeeling – was at his wife's bedside within hours.
And he has offered several updates on Melania's condition; the first came in the form of a Tweet:
Heading over to Walter Reed Medical Center to see our great First Lady, Melania. Successful procedure, she is in good spirits. Thank you to all of the well-wishers!

— Donald J. Trump (@realDonaldTrump) May 14, 2018
Melania Trump, 48, had the "embolization procedure" on Monday morning, and the White House has confirmed that this procedure was successful "and there were no complications."
Here's the rest of the public statement:
"Mrs. Trump is at Walter Reed National Military Medical Center and will likely remain there for the duration of the week.
The First Lady looks forward to a full recovery so she can continue her work on behalf of children everywhere."
Though this was a "minimally invasive" operation, Melania will still need time to recover.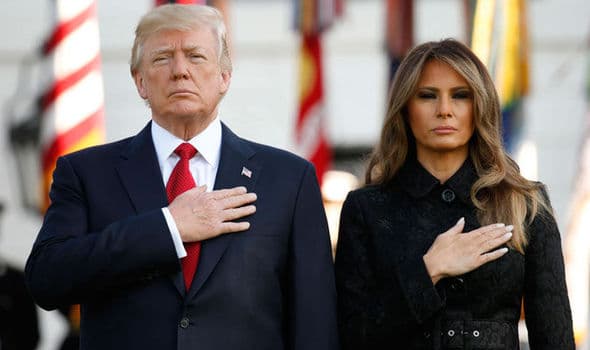 In fact, her expected multi-day hospitalization will be the longest for a First Lady since Nancy Reagan spent about a week in the hospital after a mastectomy in 1987.
But Donald says Melania won't be there for quite that long, thankfully:
"Our great First Lady is doing really well. Will be leaving hospital in 2 or 3 days.

Thank you for so much love and support!"
All good news here, so Americans can rest a little easier now. 🙂
It won't be long before Melania Trump is back in her rightful place in the White House, as one of the classiest and most effective First Ladies in our country's history!