Liberal Group Sneaks 'IED' Through Airport Security—Feds Drop Hammer On Them
People do stupid things. No doubt there. We've all fouled up at one time or another. Then there are those who go beyond stupid and enter into another whole realm.
Airports are not places to amuse oneself or to pull funny stunts. For one thing, it's possible that not all TSA agents are completely stable individuals, and someone might get shot.
How one should behave in an airport, especially when going through security is very well known. We may not like the rules, but breaking them comes with some real risks.
A CNBC affiliated team decided to see what would happen if they tried to smuggle a phony bomb through security. The thing looked like a bomb but was harmless.
The idea was to take video of TSA agents and passengers to see their reactions. The reaction eventuated in these alleged journalists facing several federal charges.
"On Thursday, eight members of a cable television crew were arrested after they tried to smuggle a fake explosive device through security at Newark Liberty International Airport.
"According to nj.com, a law enforcement source said that the team, which was arrested by agents from the Transportation Security Administration, was filming for CNBC; one source told nj.com that the group worked for the Endemol Shine Group.
Nj.com also reported that the explosive device was a segment of PVC pipe with wires sticking out of it."
Nice bunch, huh? Let's scare the daylights out of innocent bystanders just to get some sensational news footage. As we said, some people do really stupid things.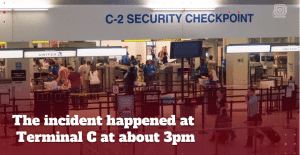 "One possible reason the group attempted such a stunt was to film the reaction to the discovery of a bomb at the airport; the New York Daily News reported the crew came from a reality TV show called 'Staten Island Hustle' and wanted to film TSA agents and any public panic when they found the bomb."
"The New York Daily News added that 'Staten Island Hustle' was recently picked up by CNBC."
Wonder how long it's going to take for CNBC to drop the "Staten Island Hustle?" Or perhaps the network likes this form of alleged "journalism?"
"According to nj.com, the group will be likely charged with creating a false public alarm, conspiracy and interference with transportation. ABC News reports there could be a $13,000 fine per security violation."
Well, this collection of pseudo-journalists at least got their question answered. When you try to smuggle a fake bomb through airport security, you get arrested, and charged with multiple crimes as well as fines that could run $13,000 each.
Most of us could have figured out this wasn't a really smart idea in the first place. Apparently, there are people who must have even the most basic concepts explained to them in a more blunt, direct way.
Source: Daily Wire