Liberals Launch Multi-Million-Dollar Scheme To Stop Trump – One Man Is Behind The Plot
The Democrats are getting more and more desperate.
With each passing day, Donald Trump continues to win for the American people. You'd think liberals would be happy about what's going on:
Unemployment is down. There are jobs for everyone. Wages continue to rise. Consumer confidence is at an all-time high.
That's not to mention the destruction of ISIS, and the big wins in Asia with North Korea. Who wouldn't cheer such accomplishments?
Democrats, that's who. They cannot get over that it's Donald Trump who is winning; America could reach its greatest era in history and they'd still be miserable.
Trump's success is a reminder that, even at their best, the Democrats couldn't achieve such greatness.
And now one of the most evil men in the world is spending big bucks to put a stop to Trump's next win….
From The Daily Caller:
"A new political advocacy group that vowed to put $5 million behind an effort to stop Judge Brett Kavanaugh's confirmation to the U.S. Supreme Court has significant ties to the liberal financier George Soros…
The group, Demand Justice (DJ), is organized and financed by a 501(c)(4) called the Sixteen Thirty Fund, which collected some $2.2 million in contributions from the Open Society Policy Center (OSPC), one of Soros' primary donation vehicles, between 2012 and 2016…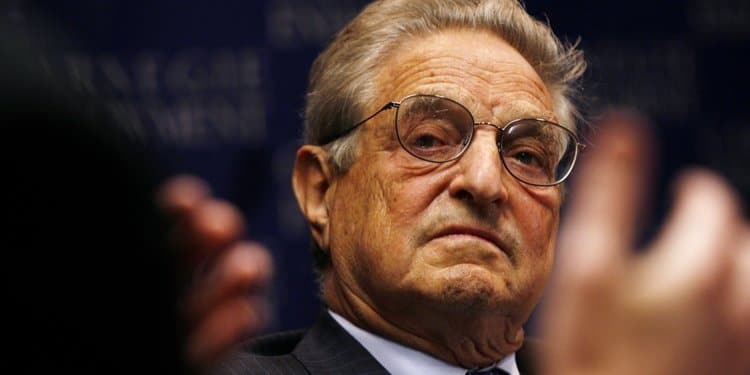 The nomination of Judge Brett Kavanaugh to the U.S. Supreme Court presents the first significant political conflict since DJ was founded in the spring of 2018.
The outfit vowed to put $5 million dollars behind a multi-platform effort to stop Kavanaugh's confirmation.
The campaign will feature television spots promoting embattled Democratic Senate incumbents in West Virginia, Indiana and North Dakota, who face competitive Republican challengers this November."
The good news is there is very little Soros could do to stop Kavanaugh's appointment.
Trump picks the man. The Senate meets with him and questions him, then they vote. Spend all the money you want, you can't manipulate this process like you do our elections.
However, elections are manipulated by propaganda:
The fake news and Democratic Party spend big bucks to lie to the public, all in the hopes of controlling how you vote.
Thankfully, more and more Americans are seeing through their lies … but in the case of a Supreme Court pick, Soros is just wasting his dollars.
The only way this bogus group can influence the vote is by bombarding the public with attack ads. Maybe then, Soros hopes, they will petition their Senators to vote against Kavanaugh.
The other way is to directly confront Senators, demanding that they don't vote for Kavanaugh. But that's a slippery slope.
How do you coerce an elected official to vote the way you want? Blackmail? Bribery? And on top of that, Republican lawmakers have zero reasons to reject a conservative pick like Kavanaugh.
Looks like Soros just wasted a few million but unfortunately for America, he's got plenty more to spend to destroy our country.
Source: The Daily Caller