Kaepernick Lawyer Calls Out NFL Owners – Makes Bold 2-Week Prediction
The NFL kneeler thinks his fortunes will change days from now – and Americans need to weigh in!
The man who almost destroyed the NFL is trying to get back into the game. Colin Kaepernick started the kneeling epidemic in the NFL, and the league's ratings took a nosedive.
All because of patriotic Trump supporters turning off the TV. Well, we don't see much kneeling nowadays.
But Kaepernick's lawyer thinks he finally has the winning combination to get Kaepernick back on the field.
But if he's back in, America is out.
From Fox News:
The lawyer for former NFL quarterback Colin Kaepernick said in an interview Saturday that his client still wants to play in the NFL, and predicted that the Carolina Panthers and New England Patriots are likely two teams with interest.

"It would not surprise me is Bob Kraft [the owner of the Patriots] makes a move," he said.
It would be the ultimate irony if Kaepernick wound up playing for the Patriots, considering we think he is the furthest thing from a patriot.
But Kaepernick's lawyer is dreaming if he thinks that any team would hire the former quarterback after his ridiculous stunt kneeling for the anthem.
What does Donald Trump think about all this? His past words seem to be a clear indication: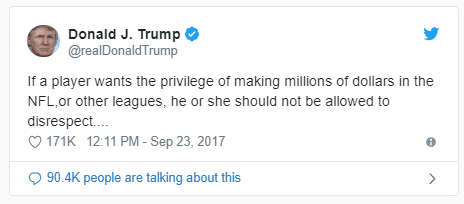 If a player wants the privilege of making millions of dollars in the NFL,or other leagues, he or she should not be allowed to disrespect….
SHARE if you agree with President Trump!
His disrespect for our flag should keep him out of the NFL. On top of that, it would hurt the brand of any team he played for.
Kaepernick's lawyer thinks the NFL should force a team to hire his client because it's the "right thing".
But wouldn't the right thing be for Kaepernick to apologize for publicly mocking our country?
Hopefully, the NFL will send a huge message to Kaepernick and all of America's youth – that there are consequences for your actions.
No one has the right to go to work and protest on the clock while in uniform. But Kaepernick is suing the NFL, hoping to force them into rehiring him at a wage he thinks he deserves.
He hasn't been a football player for three years – why does Kaepernick even want to get back into the sport? Isn't his career as a liberal Nike model working out?
Instead, he thinks he could land a job as a backup quarterback for a team that just won the Super Bowl.
Keep dreaming, liberals.
If Kaepernick signs on with another team, then NFL will stand for "No Fans Left."
SHARE if you will join Trump and the rest of America to boycott the NFL if Kaepernick plays again!