'Impeach Trump Pledge' Hits Congress – Guess Which 2 Democrats Signed It First?
Maybe THEY should be impeached immediately…
After over two years and millions of dollars spent, the Mueller witch hunt has found nothing.
Nothing to prove Donald Trump broke any laws or "colluded" with Russia.
Even so, Democrats still cling to the hope that they can remove him from office … for no legitimate reason whatsoever.
In fact, two top Leftists just signed a pledge by a radical group, promising to impeach the duly elected President of the United States.
Oh, and they just happen to be rabid anti-Semites.
From Breitbart:
"Reps. Ilhan Omar (D-MN) and Rashida Tlaib (D-MI) are the first members of Congress to sign on to a pledge launched by a progressive advocacy organization to impeach President Donald Trump…

'We are committed to ending this administration and creating a country that lives up to its founding ideals,' the group's About Us section reads…

Omar and Tlaib have faced accusations of anti-Semitism since taking office, a charge the two deny despite their repeated offenses."
Is anybody really surprised?
After all, we're talking about two Muslim congresswomen who hate Israel and want to impeach a man who supports Jews.
Donald Trump has been one of the biggest supporters of Israel, the only true democracy in the Middle East; he made good on a major promise to move our embassy to Jerusalem.
On the flip side, both Omar and Tlaib are outspoken opponents of both Israel and the Jewish people.
And we all know they conned Democratic voters into electing them, thanks to identity politics.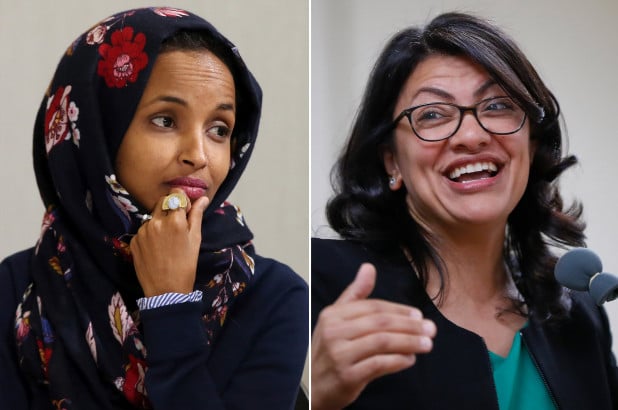 As for this ridiculous "impeach pledge," it's just more pathetic game-playing: Trump is innocent, and Democrats have no evidence against him.
The REAL criminals on Capitol Hill wore white to the State of the Union address. They hate the United States, our values, and way of life.
Omar and Tlaib don't represent the American people in any way. They simply want to use their offices to get rich and powerful.
SHARE if you agree that Omar and Tlaib need to be removed from office, NOT Trump!
Source: Breitbart