WOAH – Guess What AOC's Insane 'Green Deal' Will Cost Every American Household?
…and then guess what it'll cost the entire country over 10 years!
Apparently, socialists can't do simple math.
Or perhaps they simply don't care what their insane ideas will cost the average citizen.
Whatever the reason, it's clear now that Rep. Alexandria Ocasio-Cortez (D-N.Y.) has no conception of reality.
Like most socialists, she knows one thing:
How to take your money. A LOT of your money.
Do you have any idea how much her completely insane "Green New Deal" will cost America? And in turn, how much it'll cost every household on average?
The first number is $94.4 trillion.
Yes, trillion. As for the rest, check this out, courtesy of the Washington Free Beacon:
"The 'Green New Deal' would cost up to $94.4 trillion, or over $600,000 per household in the United States, according to a new study.

The American Action Forum study offers a conservative estimate of the costs of providing every resident in the country a federal job with benefits, 'adequate' housing, 'healthy food,' and health care."
Yes, this is the plan that calls for the complete overhaul of every building in the country, the ultimate elimination of air travel, and economic security for those "unwilling to work."
And let's not forget about those "farting cows."
The end result is that this crazy mess of hers will cost every American household between $36,100 and $65,300 every year.
Sen. John Barrasso (R.-Wyo.) said it best:
"The American Action Forum's analysis shows that the Green New Deal would bankrupt the nation.

On the upper end, every American household would have to pay $65,000 per year to foot the bill. The total price tag would be $93 trillion over 10 years.

That is roughly four times the value of all Fortune 500 companies combined. That's no deal."
The numbers are just wacky, aren't they?
With AOC's plan, green housing would cost between $1.6 trillion and $4.2 trillion.
A federal jobs guarantee would cost between $6.8 trillion and $44.6 trillion.
And a net zero emissions transportation system would run us between $1.3 trillion and $2.7 trillion.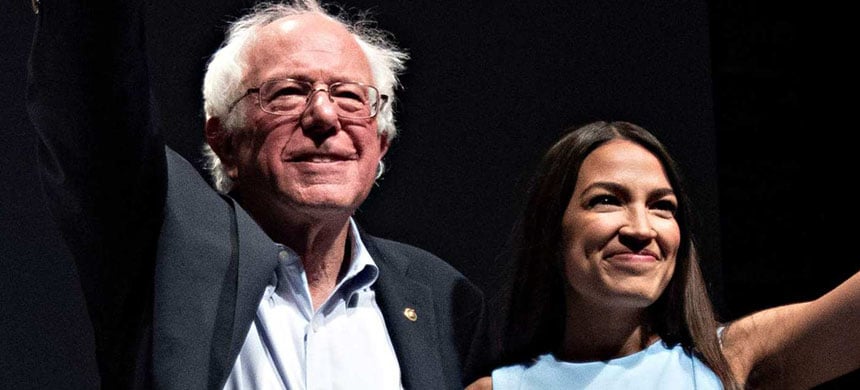 That's just the tip of the iceberg, too.
When you factor in the "Medicare for All" option ($36 trillion), the plan starts to spin out of control and AOC looks just plain nuts.
This is the problem with socialists: they don't live in reality, and they only seek to put everyone at the poverty line.
SHARE to help ensure that the "Green New Deal" NEVER gets enacted!
Source: Washington Free Beacon