Google Plot Uncovered To Sabotage President Trump—Senior Engineer Confesses Every Detail
Former Google engineer James Damore made international news when he wrote a memo in July of last year blasting the company's "ideological echo chamber".
He called on the company to reexamine its diversity policies and its outright attack on those on the right.
He wrote the memo in response to a Google diversity program he was forced to attend, which Damore believed was just an excuse for the company to shame conservative white men like himself.
Damore was fired a month after the memo was released, but not before he filed a complaint with the National Labor Relations Board over threats he had received.
Damore is now pursuing legal action against Google, and as a result, many of the corporation's censorship activities are finally being brought to light, and they're even worse than we could have imagined.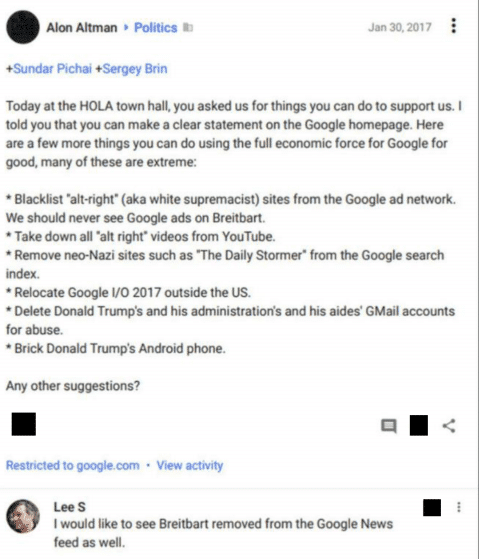 From Breitbart:
"Alon Altman, a senior software engineer at Google, pressured the company to sabotage President Trump's Android phone, according to new evidence released via James Damore's class-action lawsuit against the company.
Calling on the tech giant to use the 'full economic force [of] Google for good', Altman also suggested deleting the gmail accounts of Trump, his administration, and his aides for 'abuse.'"
Altman is well-known at Google for her far left leanings, and tried last year to get the company to fire every employee that agreed with Damore's memo.
The fact that she would try to subvert our Constitution by censoring those who don't agree with her, including our own President, is extremely disturbing and reveals the lengths the left will go to in order to silence opposition.
Google claims to support diversity, but not when it comes to diversity of thought. Everyone at Google must subscribe to the company's groupthink, or else be fired.
This wouldn't be so concerning were it not for Google's power over information. On average, the search engine receives 3.5 billion searches per day.
When the people engineering our search results have such a clear political bias, how can we be sure that the information we're receiving is truthful?
As Damore's lawsuit progresses, it will be interesting to see what else Google has been trying to hide from the American public…and whether or not it will show up in a Google search.
Source: Breitbart