Hours After FBI Arrests Roger Stone – Mueller's Case Falls Apart
Mueller thought he was closing in on Trump – then Roger smashed his plan to pieces.
Early Friday morning, former Trump advisor Roger Stone was assaulted by a team of FBI agents. Armed like a SWAT team, these feds raided his house, as if he were a dangerous criminal.
CNN just "happened" to be there.
Stone has been hammered by Mueller for dirt on Trump. Time and again, Stone has refused to turn against the president (like Michael Cohen) to save his own skin.
He was arrested for "crimes" that both James Comey and Hillary Clinton committed, but received no penalties.
But Stone, true to his name, is not crumbling – instead he's already wrecking Mueller's case.
From Red State Observer:
BREAKING: Speaking to the press in Fort Lauderdale, Florida, Roger Stone says he will plead not guilty, calling the indictment "politically motivated".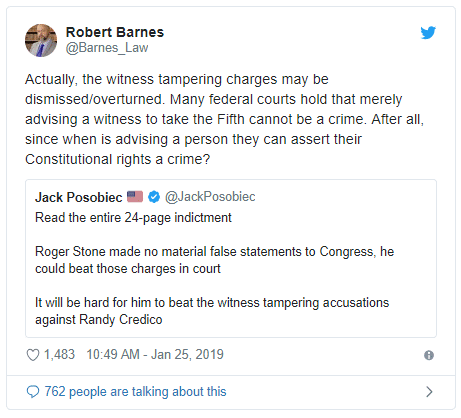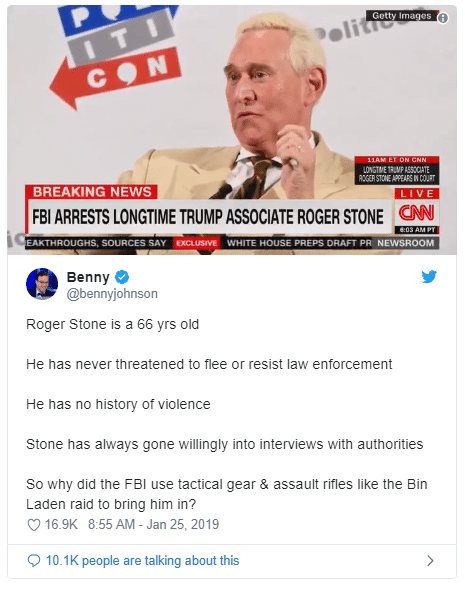 We don't have to strain our brains to see what is really going on.
Mueller is trying to hit Stone with overblown charges, in the hopes of coercing him to betray the president.
SHARE if you think Roger Stone is innocent and Mueller should be shut down, once and for all!
Stone has already been vindicated over Russian "collusion." He isn't being charged over colluding or working with Russia (because he didn't).
Mueller is hitting him with process crimes, related to misremember details when appearing before the House.
This is a bogus hit job, more evidence that Mueller's probe is a witch hunt. The D.C. swamp still thinks they can stop Trump.
They continue to push the lie that he colluded with Russia, in the hopes of removing him from office.
Fat chance.
Mueller overplayed his hand when he arrested Stone. He is not a coward or traitor like Cohen. He will not lie to frame Trump.
He's already out on bond and getting out the truth.
By pleading not guilty, it will force the case to go to trial. More than a few skeletons will come tumbling out.
It will only hurt the Democrat's and Mueller's team.
Stone is not a man to be messed with. He knows where the proverbial bodies are buried. And if Mueller thinks he can crucify him over his ongoing allegiance to Trump, Mueller's in big trouble.
SHARE if you think Roger Stone is innocent and Mueller should be shut down, once and for all!
Source: Red State Observer