Fallon And Kimmel Protect 'Blackface' Northam – Then 2 Skeletons Roll Out Of Their Closets
These late-night hosts protected disgraced Virginia Governor Ralph Northam…and here's why.
You know the story by now:
Democratic Virginia Governor Ralph Northam is caught in a major racism scandal, and it might just ruin his career.
Last week, Northam's yearbook page from the East Virginia Medical school went viral because it supposedly featured Northam wearing blackface.
Northam denied the accusation, but admitted he had worn blackface when entering a dance competition as Michael Jackson.
Okay, so this is great stuff for comedians, right?
Curiously, however, late night talk show hosts Jimmy Fallon and Jimmy Kimmel were silent on the matter.
That's akin to protecting Northam in the entertainment industry … but why?
Well, as it turns out both Fallon and Kimmel have the same dirty skeleton in their closets!
From Fox News:
"While Northam's racist yearbook page and bizarre press conference led national news and were mocked by several late-night hosts…

…they were left unmentioned by Jimmy Kimmel and Jimmy Fallon, both of whom have worn blackface on comedy skits."
Yup, BOTH are guilty of this racist transgression.
Kimmel has done it several times; he once dressed up as NBA Hall of Famer Karl Malone, and even impersonated Oprah Winfrey in his Comedy Central series, "The Man Show."
Fallon isn't much better off.
He appeared in blackface when on "Saturday Night Live," once impersonating comedian Chris Rock in a skit.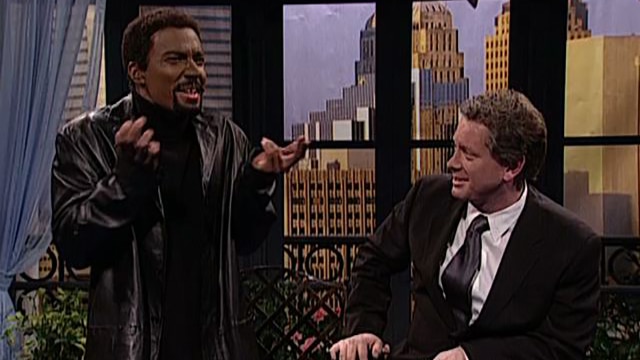 So that's why they were quiet about Northam! They didn't want anyone doing a background check on their comedy pasts!
After all, people in glass houses…
Other entertainment personalities, including "The Daily Show" host Trevor Noah, Stephen Colbert, and Seth Meyers, all took potshots at Northam.
But not Kimmel or Fallon, and for good reason. They'd look like the biggest hypocrites in showbiz!
If they value their wildly overpaid careers, they'd better stay quiet on the whole Northam mess.
Source: Fox News