Donald Destroys 45-Year Old Record After Liberals Claimed It Was Impossible
The liberal media was pretty negative about a Trump presidency. Wow, there's the understatement of a lifetime! They predicted doom and gloom for our country, should Trump win.
They were particularly gloomy regarding the economy. Liberals promised that our country's economy would be destroyed under President Trump. They predicted a stock market in complete freefall. When pressed for reasons why, they came up empty.
Instead, things have been amazing. The stock market passed milestone after milestone. Millions of new jobs were added in 2017. Numerous companies are bringing more jobs to the country.
Huh, it's almost as if electing an intelligent businessman was good for the economy.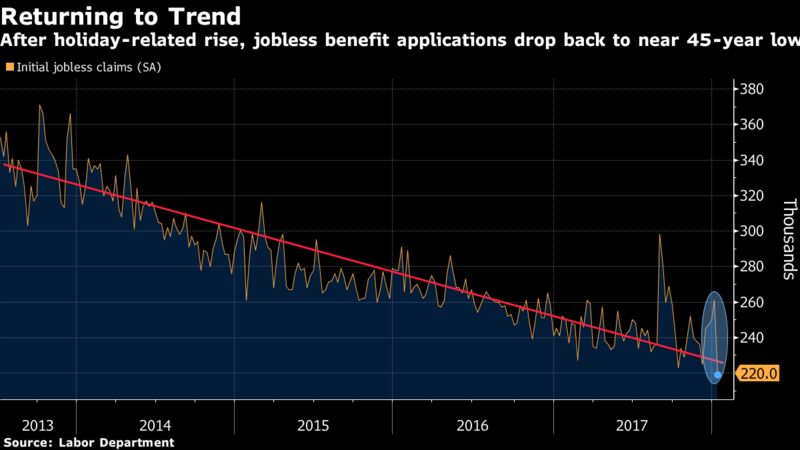 From Bloomberg:
U.S. filings for unemployment benefits plummeted to the lowest level in almost 45 years in a sign the job market will tighten further in 2018, Labor Department figures showed Thursday…
The figures suggest the unemployment rate of 4.1 percent, already the lowest since 2000, could be poised to decline further. The latest week for claims includes the 12th of the month, which is the reference period for the Labor Department's monthly employment surveys.
Liberals are already trying to spin this as a negative—citing labor shortages. Because there are so many job openings, they claim there aren't enough people to fill them. The likely conclusion is to push for more migrants to enter the country.
Sorry, but let's focus on the millions in the U.S. that are out of work. The numbers are going down, but there are still many people who need work.
People who just need some on the job training. Or perhaps a swift kick in the pants, in the form of work requirements for Welfare.
And let's not forget the many veterans who struggle to find work. Our businesses should make sure former servicemen and women have ample opportunity.
These unemployment numbers are historic. Nobody could have predicted this kind of improvement. Except for maybe Trump himself. He promised that we would win this much.
Makes you wonder why anyone would doubt him over anything.
This is a great victory for the United States. One worth sharing. Be sure to spread the word to every Trump-doubter you know. They deserve to know the facts.
Source: Bloomberg