Democrat's Favorite Pick For 2020 Revealed – You Won't Believe Who Came In 2nd
Trump is licking his chops right now…
The lackluster leftist slate for 2020 is growing by the day.
The Democrat Party appears to be heavily divided when it comes to picking their 2020 favorites, which is great news for the GOP.
Why? Because the larger the candidate pool grows, the more epic the bloodbath will be.
Democrats will spend the entire primary battle tearing each other up, and Trump should easily trounce whoever manages to rise to the top.
But who will that person be?
Ironically, the favorites are two liberals who aren't even official candidates yet!
From The Hill:
"A new poll finds former Vice President Joe Biden ahead of the field in the 2020 Democratic presidential race — even though he hasn't actually entered it.

The Morning Consult poll showed Biden winning the support of 29 percent of Democratic primary voters surveyed…

…followed by Sen. Bernie Sanders (I-Vt.) at 22 percent and Sen. Kamala Harris (D-Calif.) at 13 percent.

Neither Sanders nor Biden has officially entered the 2020 race, but both have wide name recognition, which could be helping them in the early stages of the race."
This is it?
The top two choices for the Democrat nomination are a creep who can't keep his hands to himself and a radical socialist?
And let's not forget that both Biden and Sanders will be just shy of their 80s by the time 2020 rolls around.
And what does it mean for the Democrats if their top choices are people who haven't even announced?
Well, obviously, they must not think much of those who have announced they're running.
Kamala "Horizontal" Harris, whose rise in politics stems from her 1994 affair with former San Francisco Mayor Willie Brown, came in a distant third for the nomination (13 percent).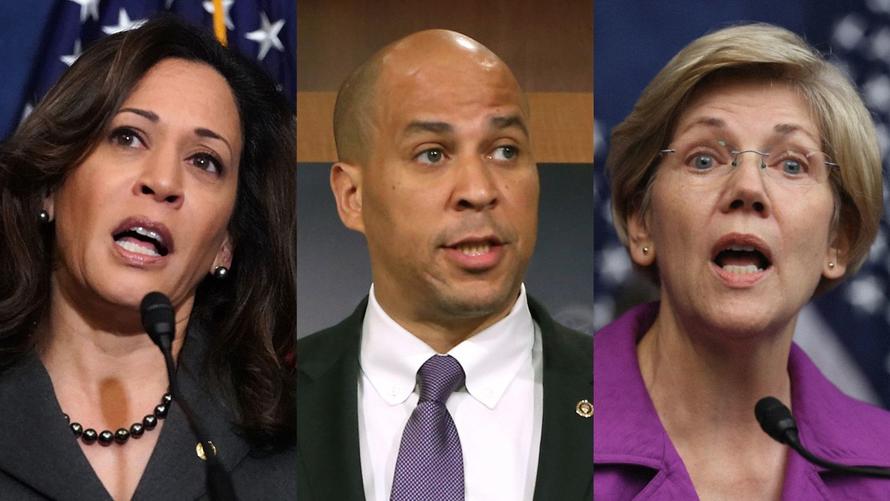 She was followed by Liz "Pocahontas" Warren, who only managed to drum up 8 percent.
Then came Fake Mexican Beto O'Rourke with 7 percent, while Cory "Spartacus" Booker managed 5 percent.
With choices like this, do we even need to waste time and money on an election?
It just doesn't seem like anyone electable will be on the Democrat ballot, so Trump is almost guaranteed to get reelected in a landslide!
Source: The Hill