Christmas Comes Early For Trump's Border Wall – Pentagon Sends Democrats Scrambling
Even Donald wasn't expecting such an early present – or such a big one.
President Trump has spent years fighting to build the border wall. And it looks like his big investment is paying off bigtime.
But I want to see the wall get built now, am I right, folks?
Democrats obstructed, protested, even shut down the government.
But they didn't see this surprise the Pentagon just dropped in Trump's lap. From USA Today:
A Pentagon decision to spend up to $1 billion to build 57 miles of fencing along the Mexican border drew an angry response Tuesday from Democrats who claimed "political interference" could harm military readiness.
I get it, Democrats. If I opposed securing the southern border, I would be mad too.
Democrats "claim" the Pentagon granting $1 billion to build the wall will interfere with the military's readiness.
Is that really what they care about?
Democrats seemed to underfund the military when they were in charge, while Trump has been the giving our soldiers pay raises and cleaning up the VA.
So no, Democrats, the Pentagon already said they have $12.8 billion to spare for border security and keeping America safe down South.
And Donald Trump Jr. is celebrating his father's milestone victory: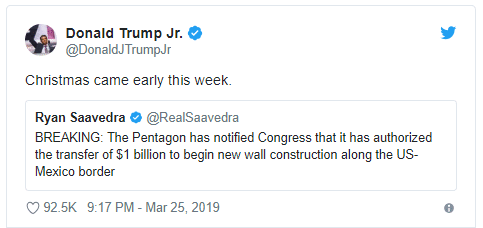 In case you need Don Jr.'s words: "Christmas came early this week."
That's quite a Christmas present, wouldn't you say?
Celebrate the progress Trump is making on the wall today! But also remember that the job isn't over.
There's plenty of border wall left to build, and Trump is going to need America's support to get it done.
SHARE if you support an ENTIRE border wall!