After California Cancels 'Green Train' – Trump Drops $3B Hammer On Them
Donald's not letting California getting away with wasting taxpayer dollars – he's making them pay.
The new California governor put a stop to their massive boondoggle. A high-speed rail that would have only made 2 stops.
They wasted billions of dollars on this rail–that was never going to get built.
Outraged over this (very common) act of waste, Trump is dropping a bomb on them.
From Twitter: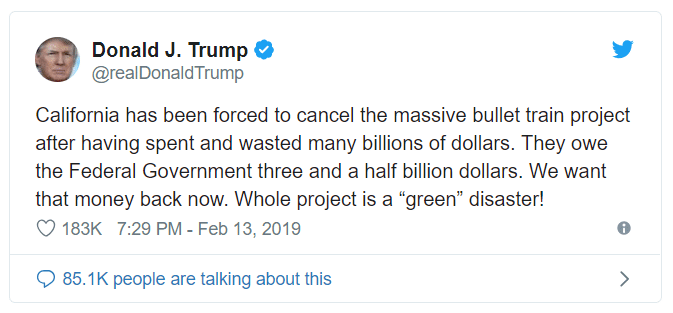 California has been forced to cancel the massive bullet train project after having spent and wasted many billions of dollars. They owe the Federal Government three and a half billion dollars. We want that money back now. Whole project is a "green" disaster!
SHARE if you think Trump should get that $3 billion back!
The ending of this project put a wrench in AOC's "Green New Deal." She was hoping rails like the California one would replace airplanes.
Not sure how we'd get to Hawaii and Europe. But it's not like AOC ever thinks things through.
California wanted to make fossil fuels obsolete. But even they couldn't justify this rail, whose costs continued to balloon, year over year.
Not they'll never finish it. With billions wasted. That's your money gone, over a project that was pointless.
Donald Trump has a right to be made. Liberal states do this all the time. They use the federal government like a piggy bank. They never consider having to pay them back.
Looks like things are going to change.
Will Gavin even bother to pay back Trump? He'll try to get out of it, but I have a feeling he's going to owe the White House big.
SHARE if you think Trump should get that $3 billion back from California!
Source: Twitter