After Border Patrol Agent Is Killed, Judge Unleashes The Justice He Deserves
Why do liberals oppose border security so fiercely?
Maybe they really believe their own fake news, or maybe they just don't understand how dangerous conditions are south of our border.
The fact is, Mexico is hardly a paradise. Criminal cartels run major cities in the country, and numerous border towns are under the control of notorious drug cartels.
These brutal and violent groups have created an atmosphere of lawlessness.
In and around our border, things are extremely dangerous. Criminal aliens cross our border regularly, to seek new victims in the United States.
Sadly, families are often in the line of danger, and that's just what happened when a border patrol agent went fishing with his family. Two criminal aliens tried to rob them.
The ensuing confrontation left an American hero killed. Now, at least one of his killers is getting what he deserves.
From Breitbart:
"Six days after convicting one of two men responsible for murdering a U.S. Border Patrol agent who was fishing with his family in 2014, a jury found that the man should die by lethal injection. The other defendant is still awaiting trial.
Jurors in the border city of Brownsville, Texas, decided on the death penalty instead of an automatic life in prison in the case against Gustavo Tijerina for his role in the shooting death of U.S. Border Patrol Agent Javier Vega.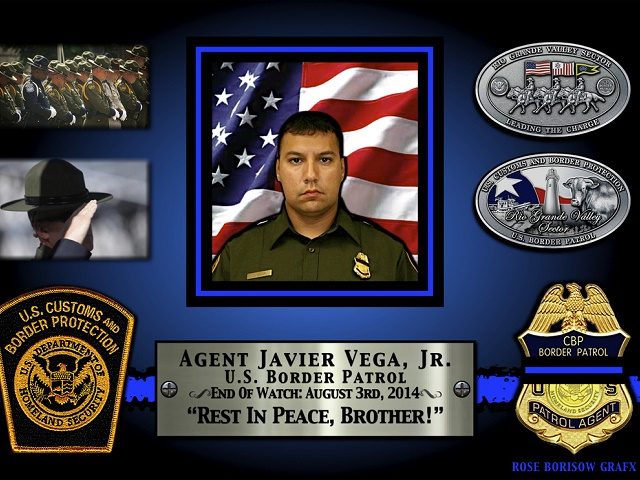 Tijerina, a Mexican national who was living illegally in South Texas, was recently convicted on the charge of capital murder for his role in murdering Vega during a robbery gone wrong, Breitbart Texas reported.
The man also received a conviction for attempted capital murder after shooting Vega's father, Javier Sr."
It's rare these days that we hear about convicted criminals getting what they deserve. This man cruelly murdered a father, husband, and American law enforcement officer; he paid the ultimate price to protect his family and country.
His killers had no thought about Vega's family. They only wanted to rob them—and perhaps do much worse, and only by giving his life was Vega able to save his family.
But now they will have to live without him. Shouldn't that warrant the strictest penalty under our law?
We have to ask, though: will this teach liberals to take immigration enforcement seriously? Vega would be alive today, had his killers been kept out of the country.
If our government actually secured our border, a family wouldn't have been deprived of their father.
But don't expect liberals to change their minds, no matter how many Americans die.
Source: Breitbart