Alexandria Goes After Ronald Reagan – It's One Of Her NASTIEST Insults Yet
This woman has NO SHAME.
Rep. Alexandria Ocasio-Cortez is going after everyone, it seems.
From President Donald Trump to ICE, and just about any Republican in between, AOC is on the warpath.
And her latest attack lands on one of America's most beloved leaders … and it's both predictable and nasty.
While at the South by Southwest Conference & Festivals in Austin, TX, Ocasio-Cortez went after former President Ronald Reagan.
And she used the only card leftists have: the race card.
Via The Daily Wire:
"Alexandria Ocasio-Cortez (D-NY) said former President Ronald Reagan used 'racist,' caricatures to pit 'white working-class Americans against brown and black working-class Americans.'"
AOC specifically called out "Reaganism in the '80s when he started talking about welfare queens."
At that point, the socialist representative went on one of her adolescent rants, interrupted every few seconds by her favorite word: "like."
Socialist Rep. Alexandria Ocasio-Cortez (D-NY) suggests former President Ronald Reagan was a racist and claims he "pitted white working-class Americans against brown and black working-class Americans to screw over all working-class Americans" pic.twitter.com/oxM2QPRgrB

— Ryan Saavedra (@RealSaavedra) March 9, 2019
"And it's this whole tragedy of the commons type of thinking where it's like because these one, this one specific group of people…

that you are already kind of subconsciously primed to resent, you give them a different reason that's not explicit racism but still rooted in a racist caricature.

It gives people a logical reason, a 'logical' reason to say, 'oh yeah, no, toss out the whole social safety net.'"
Yup, there is is: the racist card.
It didn't matter whether or not Reagan was being accurate when he was calling these people out (i.e., if there really were more African-Americans on welfare).
What mattered, in AOC's world, is if he hurt their feelings.
This is precisely why liberals have caused the damage they already have: they operate entirely on emotion and sensitivity, and never on hard facts.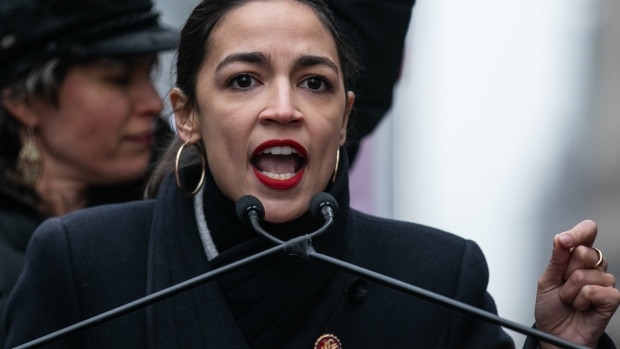 Reagan was responsible for bringing America out of a massive recession, and his economic impact cannot be debated.
Like Trump, he wanted to get rid of as many welfare people as possible, and that is NEVER a bad thing.
And what does AOC know about society, economics, or even politics, for that matter?
SHARE if you think she needs to STOP attacking true American leaders!
Source: The Daily Wire