After Gold Star Families Call Out Biden – Trump Does What Joe Should Have Done in Genius Move
What's Happening:
Recently, the families of slain American soldiers have spoken out against Joe Biden. Thirteen American service members were killed during the Kabul airport attack in 2021. Their families have told the country how Biden was less than compassionate while meeting with them. They claimed Biden told stories about himself. And several were strongly critical of the Democrat when photos suggested he looked at his watch while the bodies of these Americans were returned to their families.
In strong contrast is what former President Trump recently did. This year marks the two-year anniversary of that tragic and avoidable event. It went largely unnoticed by the Biden administration, who used the date to claim "victory" over a largely-panned Afghan evacuation. Donald Trump, however, invited the families to a special event.
From Daily Wire:
Trump hosted relatives of those heroes at his golf club in Bedminster, New Jersey on August 31…

Paula Knauss Selph — the mother of Army Staff Sergeant Ryan Knauss — was moved to tears as Trump wrote on her son's photo, "You are My Hero." […]

Bateman added, "[Trump] did something for these families that the current administration has refused to do, and was incapable of doing — giving an overdue moment of recognition and solidarity for their children."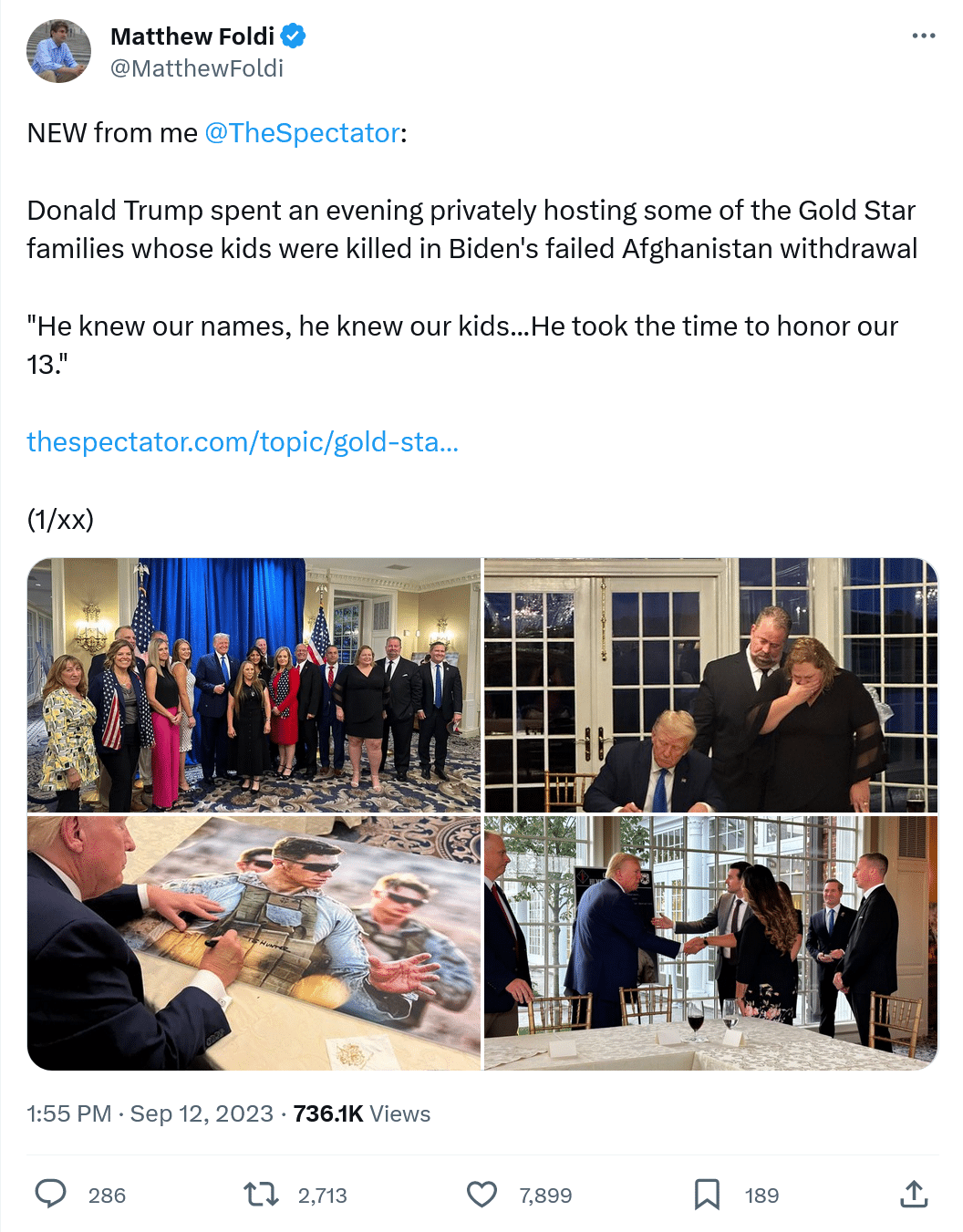 On the two-year anniversary of the Kabul airport attack, Donald Trump hosted a private event with the Gold Star families. According to reports, the parents and relatives of these fallen soldiers did not expect Trump to show up. But he did arrive to spend time with them for dinner.
He walked in as "God Bless the U.S.A" was playing. Trump spent several hours with the families. According to one family member, he took out an iPad to play music so the couples could slow dance. He signed large photos of the service members who had died. On one, he wrote "You are My Hero"–words his own mother often used to describe him.
Testimonies from that evening suggest it was a long overdue moment of healing for hit families. One observer wrote they saw "anxiety, stress, and anger" felt by these parents "disappear from their faces."
And why were they so stressed and angered? Because, according to these Gold Star parents, they were dismissed and largely ignored by the Biden administration. Although these service members died as a result of Biden's decisions, the Democrat showed little concern for these families in the aftermath of the attack.
Several of the parents have condemned Biden for lacking to show compassion or consideration. According to their reports, he came off as cold and callous. While standing before a weeping, grieving mother, Biden asked if she wanted a photo with me. When she asked if he'd take a picture with her at her son's grave, he refused.
Key Takeaways:
Donald Trump hosted a private event for the families of the service members slain during the Kabul airport attack.
The families reported that Trump met them personally, offered condolences, and spoke with them for several hours.
This is in sharp contrast to how Biden treated these families; he offered little comfort and was reportedly cold and uncaring.
Source: Daily Wire