After Border State Erects Ingenious Wall Alternative – President Biden Shows His Hand, Fires Off Lawsuit
What's Happening:
While Biden and his Democrats have absolutely failed to stem the flood of immigration on the southern border, commonsense Americans have taken smart action.
One of Biden's first actions in office was to put Trump's border wall construction to a halt, leaving large gaps for immigrants to walk right through. So what did Arizonans do? Fill in the gaps in an ingenious way. From Fox News:
The construction consisted of 60 double-stacked shipping containers, welded shut and topped with four feet of razor wire. His office said that it is 22 feet tall and weighs nearly 9,000 lbs.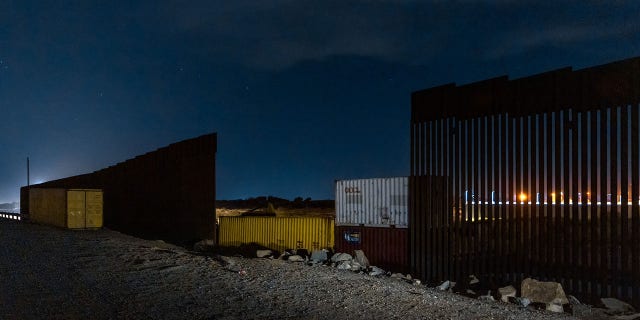 Of course, the complaints came rolling in. Why? Because of "environmental concerns" and because it was actually effective at keeping migrants out.
So Biden, who claims to have a plan to stop the influx of migrants, did what you would expect any radical liberal to do:

The Biden administration on Wednesday sued the state of Arizona over its construction of a makeshift border wall using shipping containers and razor wire in order to prevent the flow of illegal immigrants — with the administration claiming the state is trespassing on federal lands.

The lawsuit, filed in U.S. District Court, says that the installation of multi-ton shipping containers, welded shut and topped with razor wire, "damage[s] federal lands, threaten[s] public safety, and impede[s] the ability of federal agencies and officials, including law enforcement personnel, to perform their official duties."
I would love to hear them explain each of those excuses. Wait, isn't it the migrants that are damaging federal lands, threatening public safety, and keeping officials from doing their jobs?
Well, maybe Biden's definition of their jobs is quite different than our own. Maybe he wants them to just manage the chaos he has created instead of actually coming up with solutions.
But because Joe and Kamala aren't doing their job, Arizona has had to take matters into their own hands. Washington D.C. has had to deal with a few thousand migrants bussed up north, but Arizona is overwhelmed with thousands pouring in every day.
Biden needs to stop playing politics and using his lawyers to file lawsuits against people doing his job where he fails. Joe, do your job—or Americans are going to kick you and all your Democrat friends out for good in 2024.
Key Takeaways:
Arizona erected makeshift border walls with shipping containers and razor wire.
The Biden administration sued Arizona to stop them from filling the wall gaps.
Source: Fox News